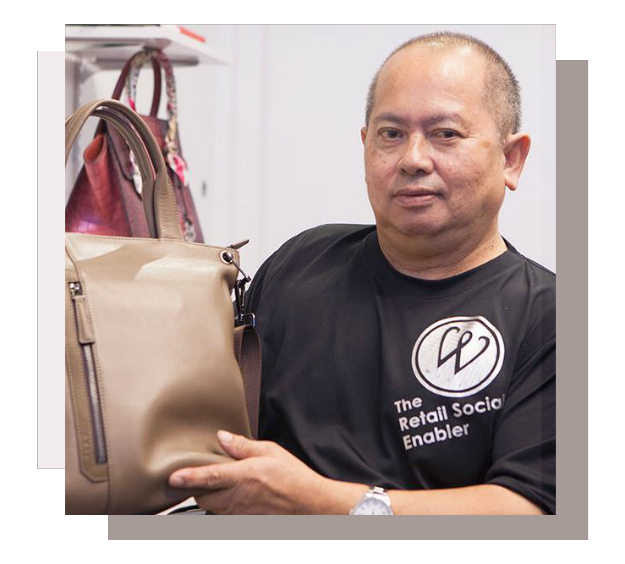 JASON CHAN
Jason is a resident of Singapore Cheshire Home, a home for the severely disabled. He married his wife, Ms Mary Kaw, whom he met in the home.
Jason suffers from polio and is partially deaf. After being retrenched a few years ago, Jason is not able to find a job due to his age and illiteracy.
Jason has a simple dream. He hopes he can have a chance to work side by side with his wife, Mary. This pair moves around together because Mary needs Jason's physical support such as pressing the lift or feeding or simply passing her a tissue. In turn, Jason needs Mary to be his ears and teacher as he has learning difficulty.
Because of your purchase today, Jason is able to continue working with Mary. Jason uses his hands to pack items for the customer while his wife, Mary will interact with the customers. This 'husband and wife' team showers great love and patience to each other. They show us that true love can overcome any difficulties and it is possible to dream the impossible.
---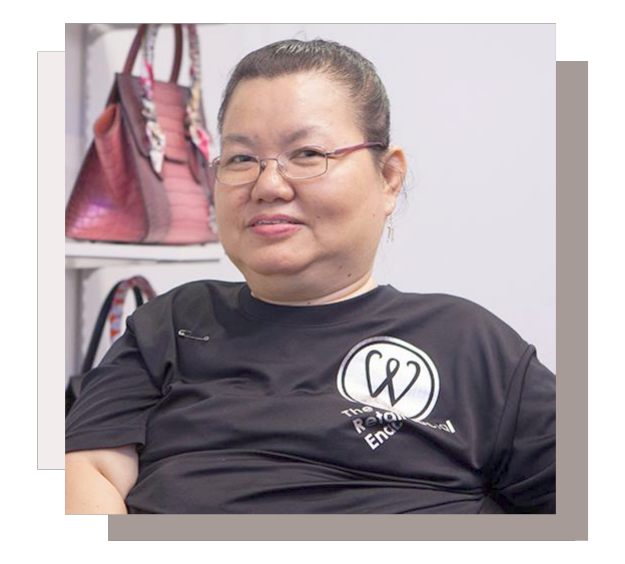 MARY KAW
At birth, Mary was given up for adoption. When she was two years old, her adoptive parents started noticing her deformity. She was then diagnosed with Spinal Muscular Atrophy, a genetic disease that weakens her muscles. At the age of six, Mary was sent to the Singapore Cheshire Home after her adoptive father met with an accident. It became challenging to take care of Mary.
According to Mary, 50+ years is a long time to be trapped in a body that cannot stand or walk. However, despite her severe disability, Mary is gifted with her creative hands. She is able to sew and make all sorts of exquisite handicrafts.
Mary has an ambition. She wishes to become a salesgirl. WISE fulfills her wish by sending her to Singapore Retail Institute to be trained as our Fashion Consultant. At WISE, Mary earns a salary and sales commission. Now, she has working colleagues like us. Mary used to admire people who work because she has never worked before. Lastly, she can work side by side with her husband, Jason, who helps to showcase the products while she does the selling.
Please visit Mary and Jason at the showroom and let the husband and wife team serve you with their passion for work.
---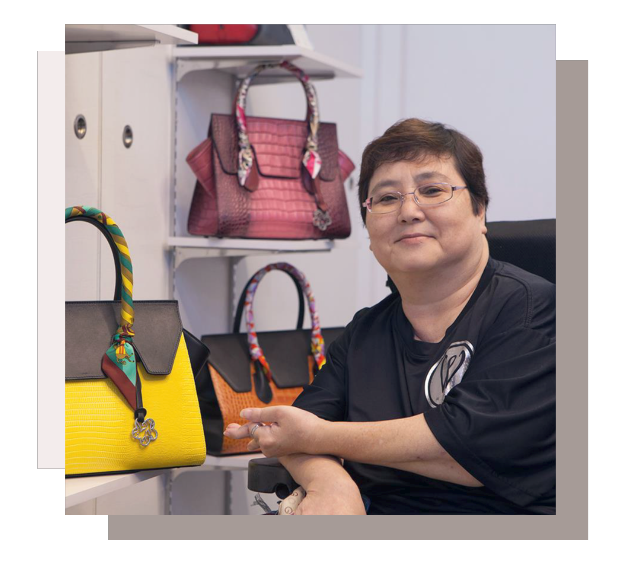 EVELYN TIEW
"I was once like you…" This is the first sentence Evelyn uttered when we first interviewed her.
Evelyn suffered from Rheumatoid arthritis and was confined to a wheelchair for more than 10 years. She was admitted to Singapore Cheshire Home after her mother passed away.
Evelyn has a very simple dream. She hopes to find a part-time job and earns supplementary income and at the same time, wants a gainful employment rather than stay in a home all the time. She wants to lead an independent life despite her disability.
Today, Evelyn's dream is realised in WISE. In the past, Evelyn was not confident of meeting people or speaking to strangers. After the intensive training at Singapore Institute of Retail Studies (SIRS) and WISE, Evelyn can now interact with customers with confidence and zeal.
Evelyn looks forward to serve customers in the showroom and continues to improve on her sales skills with further training.
Please come and support her.
---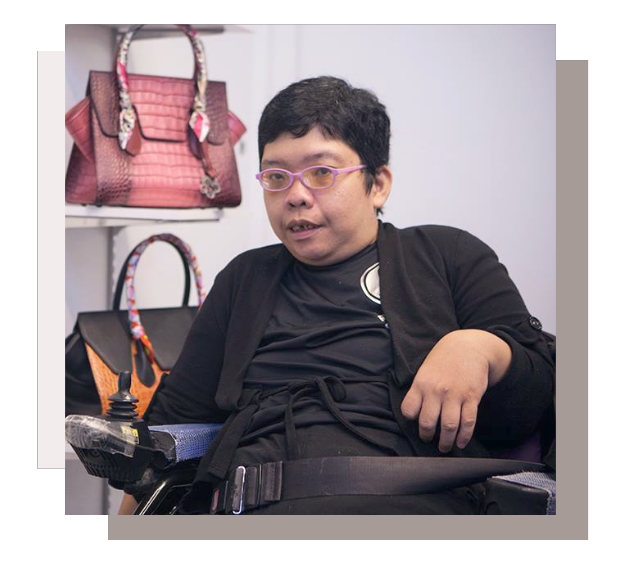 NORAINI BTE ADNAN
Noraini suffers from Cerebral Palsy and having lost her mother when she was young has taught her a great deal about independence.
Given the severity of her physical condition, she is extremely grateful to have this opportunity to be working with WISE. She hopes to be a giver one day and wants to show the world that persons with disabilities can be useful and productive.
She is a fast learner and is eager to share her knowledge with her peers. Noraini is warm and always approachable. Despite her speech impediments, she communicates clearly and confidently.
Please let Noraini be at your service.
---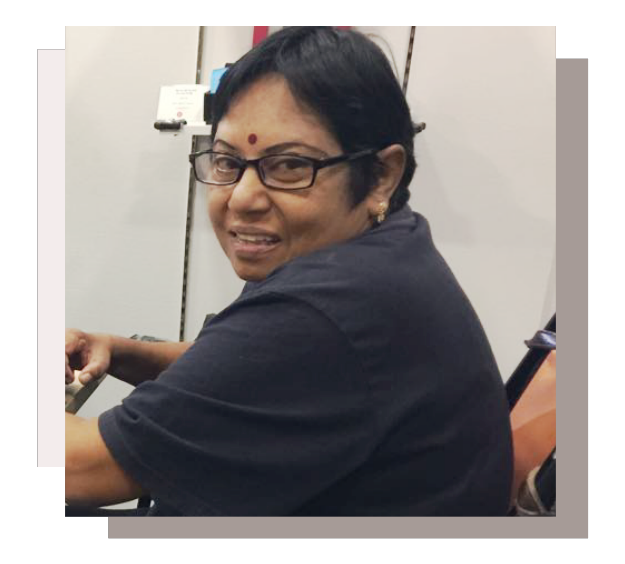 DEVI
Devi has some retail working experience in a petrol kiosk and 7-Eleven outlet before her disability hit her.
Due to her severe diabetic conditions, her both legs were amputated resulting her to be wheel-chaired bound.
After her recovery, Devi wanted to be independent, she seek for employment opportunities through SPD assistance. She was introduced to WISE to be a Fashion Consultant. WISE provide her an opportunity to work again. She has a good personality and can communicate and interact well with people.
Please let Devi be at your service.
---